We four saxophonists are the

saxophone equivalent of a string quartet.

"The Toronto Saxophone Quartet looks and sounds like the professional ensemble it is and

has consistently been an appreciated

addition and asset to dozens of functions."

Toronto Saxophone Quartet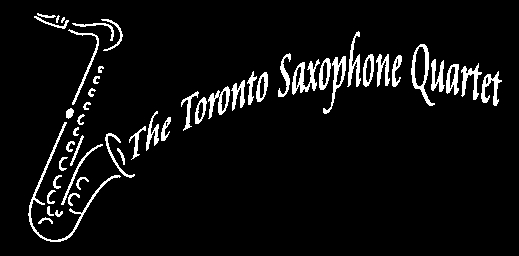 History of the Toronto Saxophone Quartet, by Steve Fuller

The Toronto Saxophone Quartet began in an unusual way.  My cousin was a Bassoon player in the Toronto Symphony Orchestra and had bought a soprano saxophone (a rare instrument at the time) and eventually sold it to me.  Unfortunately  there weren't many occasions for using this instrument.

At that time I was playing lead alto saxophone with an 18-piece big band and one of the players in my sax section brought some sax quartet arrangements he had written, based on string quartets by Mozart and Haydn.  We tried them during intermission and I was immediately hooked by the magic of the saxophone quartet.  I realized that, if I wanted to play my new toy, it would have to be in a sax quartet.  And so began the TSQ, with six or seven arrangements. 

As time went by, I acquired more pieces, buying or trading with other sax quartets.  This process has continued right up to the present and I now have a library of over 1,500 pieces.  This huge resource gives unparalleled versatility and flexibility and can  provide audiences with music appropriate to the occasion.

The TSQ as it is presently constituted is the best version yet.  Each of the members is a fine player and thoroughly enjoys being in the quartet.  The result is a finely-tuned ensemble playing at a high professional level. In its present form the TSQ has been around for at least ten years.  Adding the years of playing experience of each of the members of the TSQ gives us a total of around 200 years of musicianship.  Our music, however, remains fresh and exciting.

Click on our names

below to meet us.

with soprano sax,

with alto sax,

with tenor sax,

with baritone sax.

© 2014 Toronto Saxophone Quartet                                           Website Designed by YourWebsiteTomorrow.com